DR. Muhammad Shamim Khan OBE
MBBS MCPS FRCS (Urol) FEBU
Muhammad Shamim Khan OBE, TI (Pak) MBBS MCPS FRCS FRCS (Urol) FEBU) is a Professor of Urology & Surgical Education at the King's College, University of London & Consultant Urologist at the Guy's & St Thomas' Hospitals, London. Prof Khan and the team pioneered the robotic surgery in UK in 2004. He has been faculty in many international meetings in Robotic Surgery and recently established the first robotic urological surgery programme in Pakistan (2017).
Professor Khan's principal clinical interest is management of bladder cancer. He is leading this service at Guy's Hospital with a highly dedicated team offering full range of diagnostic (including photodynamic diagnosis) and therapeutic options for non-muscle invasive bladder cancer. For the muscle invasive and high-risk non-muscle invasive disease the team offers robot assisted cystectomy, open radical cystectomy, full range of urinary diversions and comprehensive oncological care.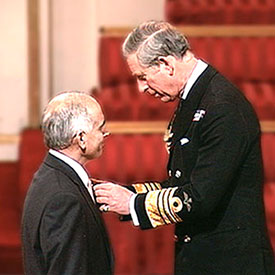 The robotic cystectomy programme at Guy's Hospital is the first of its kind in UK and the team has national and international recognition for its pioneering work. Professor Khan is one of the highest volume Robotic Cystectomy Surgeons in UK and has helped establish the programme nationally and internationally. He is a major contributor of the data to the national (British Association of Urological Surgeons (BAUS) and international (International Robotic Cystectomy Consortium (IRCC) USA on the outcomes of robotic assisted radical cystectomy.
Professor Khan has also made significant contribution in research on botulinum-toxin for the treatment of overactive bladder and role of simulation as training tool to enhance patients' safety in UK and abroad.
He has played major role in education and training within UK as Director BAUS Office of Education from 2013-2016, member Specialist Advisory Committee (SAC) in Urology, Joint Committee of Higher Surgical Training (JCHST), Standard Setting Panel Intercollegiate Board in Urology, examiner FRCS (Urology) and lead for undergraduate urology teaching at the King's College London. Professor Khan is currently leading the robotic surgical training consortium sponsored by the Urology Foundation (TUF) and is Director of Education for the Vettikutti Institute of Robotics, King's College, joint-lead for national simulation programme in urology (SIMULATE) the surgical BSc at the King's College London and examiner FRCS Urology International.
Professor Khan has made enormous contribution to the development of Laparoscopic, Robotic surgery and minimally invasive treatment of stone disease and complex reconstructive surgery in 8 major centres in Pakistan. He introduced postgraduate revision courses in urology in 2016 and helped modernize the FCPS examination in Urology. He invited and accompanied a number of experts from UK and other countries to train local surgeons in new surgical techniques through several workshops in Pakistan. He established the link between European Association of Urology (EAU) and Pakistan Association of Urological Surgeons (PAUS) in 2017. He also started the first kidney transplant programme in Rwanda.
Professor Khan has a commendable international professional profile (UK, Europe, USA, Australia) because of his academic output of nearly 500 publications (240 papers, over 300 abstracts), two books, 10 book chapters and over 150 plenary lectures at the international meetings.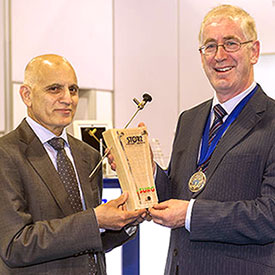 He was awarded OBE (Order of British Empire) in 2007 for his humanitarian work, "Care Award" for exceptional dedication from the Guy's & St Thomas' Foundation Trust (2016), Silver Cystoscope for the best UK & Ireland trainer (2017) and Civil Award (Tamgha-e-Imtiaz) by Pakistan government for services to medicine in 2018.